Ruth Slenczynska, The Postlude of Rejoicings 2017 – II
By Bunsho Mifune
This is the last chance
Mme. Slenczynska visited us in Okayama in 2003 for the first time.
As far as I am concerned, every precious encounter with her seemed to me the last chance.
Reaching the age of 78 – it should be the time to prepare for the rest of human life on earth. This is what I frankly felt at that time. Besides, I learned that she even reserved an old folks' home. Because her beloved husband passed away when she was 75 years old, she abruptly stopped playing the piano, though it had been her lifelong daily routine for 72 years.
So my viewpoint about old people was not so off base.
Mme. Slenczynska visited Japan altogether nine times during the period of 14 years since then. Her once-in-a-lifetime significant performance has been successful dozens of times. A lot of touching episodes were born. The Art of Ruth Slenczynska, Volume 8: these are her 14th and 15th CDs. It is a pleasant surprise, above all, for Mme. Slenczynska herself and me.
Once-in-a-lifetime mindset has enabled us to invest all of our souls and minds. Especially we find joy in the fact that every time it has brought us richer harvest than the last one.
Our listeners can enjoy the beautiful transition of the four seasons, for she has invested her very best into every performance in Japan. For more details, please refer to my essays: The Art of Ruth Slenczynska, Vol. I ~ VII.
The recording of 30 Piano Pieces by Brahms in 2009 marks a milestone of her creation at the age of 84. Later, however, I have clearly realized that her performance in 2013 at the age of 89 forms the starting -point of her postlude.
Although she was 89 years old, the result of her performance in 2013 has exceeded in quality than that of her former. Nevertheless, because the holistic burden on her became so tough, I cried out, "It is too much!"
Liu Mifune Family Art Ensemble in Okayama
Three years has passed since Mme. Slenczynska returned her home in New York City. In summer 2016 a friend of mine started implementing an idea on her own initiative.
First of all, she had reserved the venue where the descendants of Seiyo Liu, my father, would gather to perform Mifune Family Concert.
My father was an artist of abstract paintings. He has three sons and a daughter, and all of his 11 grandchildren are engaged in fine arts and music. The friend of mine remembers it well. Thus, she reserved Okayama Renaiss Hall (former Bank of Japan, Okayama branch) for three days so that various exhibitions and performance (ballet, piano, violin, flute, cello, koto-Japanese harp, nohkan-Japanese bamboo flute, shamisen) would be held. It is truly a big event.
Mme. Slenczynska is already fairly familiar with our sons and daughters in Japan, Taiwan and France. It must be a great joy for her to meet our younger generation. So, I wrote to her an invitation with adding at last, "There will not be any of your performance."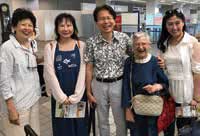 Due to the required space of time for family performers, I thought it as a matter of fact that the condition of 92-year-old Mme. Slenczyska was not ready for the event. What a surprise it was when she e-mailed me, "I also would like to play one piece of work as one of the Mifune family members." She sent me a program of one stage soon after that, and yet I was not so sure about it.
This time I was concerned above all for her security of the way to Japan and back to the United States. A Madame from Taiwan, who lives in San Francisco and loves the art of Mme. Slenczynska, willingly consented to attend upon her by leaving her own home for a month. It has relieved my heart.
On July 20, 2017 at four o'clock early morning Mme. Slenczynska safely arrived at the airport of Taiwan. It was just one week before our family concert in Okayama. My younger brother welcomed her there and informed me.
Later I came to know the details: Having taken a bite of hamburger at the airport, she straightly went to Soochow University where she taught several times before. She exercised playing the piano until the evening. The news made me to be aware of how seriously she had prepared herself.
It was, however, the beginning of my awakening.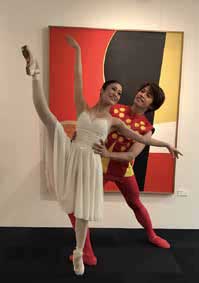 On July 26, 2017 she arrived at Okayama airport being accompanied with the family of my younger brother. It was just two days before the event. As it has been her fostered good practice since 2003, she straightly went to the 1926 Steinway piano at Liu Mifune Art Ensemble. She exercised for three hours. It was none other than our family members who were profoundly impressed by her powerful touch.
Her program was finalized on July 30, 2017, the third day of the family concert, and it was a solo recital. Three Piano Sonatas by Mozart (No. 9 or 8 K. 310, No. 11 K. 331, No. 17 or 16 K. 570), Preludes by Rachmaninov (Op. 23 – No. 6, Op. 23 – No. 5, Op. 32 – No. 5) The content was enriched to such an extent.
Her Performance in Okayama after 12-year Interval
The summer 2017 was also hot and humid in Okayama. Mme. Slenczynska's one week stay had us totally forgotten her physical age of 92 and 7 months. It was as if we were amidst huge tidal waves.
Because our family program starts on Friday, July 28, 2017, she watched and listened to each of our rehearsal, and she also took her late dinner with all of us. She only exercised her own for three hours in the morning. Thus, Sunday, July 30, 2017, the day of her recital, has come.
Okayama Renaiss Hall has a capacity for 250 persons. Those who love the art of Mme. Slenczynska came from Kanto, Kansai, and Shikoku regions. There were great expectations. After her rehearsal in the morning, she told me the changing orders of her performance.
Order at first: Piano Sonatas by Mozart No. 9 (8), No. 11 – intermission – Piano Sonata by Mozart No. 17 (16), Prelude by Rachmaninov Op.23-6, Op.23-5, Op.32-5
Final order: Piano Sonatas by Mozart No. 11, No. 17 (16) – intermission – Prelude by Rachmaninov Op.32-5, Op.23-5, Op.23-6, Piano Sonata by Mozart No. 9 (8).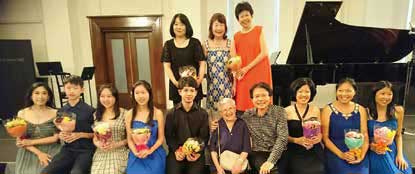 I have also come to learn how the communicating message is different according to the order. As for the first one, Piano Sonatas by Mozart are in chronological sequence, Turkish march comes at the end of the first half. Prelude by Rachmaninov Op.32-5 was played first of all at her first recital in Okayama 2003. Therefore, it was the very best what I could arrange for her.
Mme. Slenczynska, however, has not only changed the order but also started the recital with 'Widmung' by Schumann, having expressed her gratitude for Mifune family. And the final encore was Italian Polka' by Rachmaninov, which is so light with delight. Therefore, her performance has deepened the taste of significance, having appealed much more to the hearts of audience.
After the standing ovation, I asked her to speak to the audience.
Rachmaninov composed the following Italian Polka for the sake of his wife, who felt lonesome because of their daughter's marriage, going to live in a foreign country.
Our physical life on earth is so short like a moment! Don't cry about it but let's dance!
There was no stereotyped nostalgia.
Mme. Slenczynska was so powerful, even though she was the eldest there. She truly encouraged us to live meaningfully. At her autograph session, she responded to more than 100 fans over an hour. More than 90 ardent supporters waited for her at the celebration party.
Having drawn lots for choosing seat beforehand, everyone shared a friendly laugh with one another embraced in a lovely atmosphere, though each was for the first time here.
The art of Mme. Slenczynska has enabled every one of us to be a part of family embodiment regardless of sex, age, or occupation.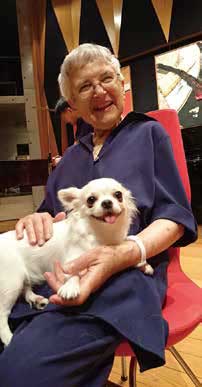 Getting Elder guides you to grow in another direction
Our three-day program in the period of extreme heat finished perfectly. I was also quite relieved to discover her refreshed energy. As soon as we were on our way back to the hotel, she told me, "I would like to have more Piano Sonatas by Mozart recorded with my friend 1926 Steinway in Liu Mifune Art Ensemble. Would you please prepare for that?"
We had only one-day preparation. Now therefore, six works she played at the Renaiss Hall plus Mozart's Piano Sonata No. 3, K.281 were recorded on August 1, 2017 at Liu Mifune Art Ensemble. Several supporters attended there representing audience.
It was extremely hot, and we had to turn off air conditioner for the period of recording. Mme. Slenczynska exercised for two hours in the morning. She did not have breakfast at the hotel, and at lunch she had noodle a little my wife prepared. By six p.m. in the evening, all of her performances finished. What an effective energy-saving day!
Every note sounded vigorously and her whole lively performance flow has released all at once. Our staff was surprised at it, for we also attended at her performance the day before yesterday. When the recording was over, Mme. Slenczynska said to me, "Please forget my performance at the Renaiss Hall, because that of today is much better!"
Day by day her achievement has got better and better even during her one week plus stay. I asked her, "Your muscles seem to have strengthened more than before?" She immediately replied, "No, it is different. I had a lot of strength with big muscles for playing Chopin's music. Today I don't have so much strength. I am going to get a little bit muscle. Maybe something else to grow. Maybe some place with sweetness." "Things get old here, something else starts to grow," she concluded.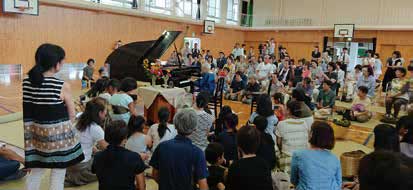 Holding a Reunion with the 1000-year-old Cherry Tree
One of her wishes was to visit the 1000-year-old cherry tree again according to her e-mail before. It is the Daigo cherry blossom tree on top of a mountain in Maniwa City, northern part of Okayama Prefecture. It was also scheduled for Mme. Slenczynska to play the piano at Mikawa elementary school, one of three schools where she performed in 2007.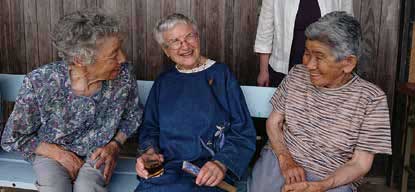 We started driving northwards on August 2, 2017, the next morning of our recording. A few dozen of her fans, newspaper and TV stations also came to cover the event from Okayama City.
At the school gymnasium, a grand piano has already set in the middle. She performed Preludes and Walz by Chopin, Sonatas by Mozart, etc. one after another for about an hour. It was really hot and humid, it might have been last up to more than 38 Celsius. When she played Chopin's Black Keys (Etude Op. 10-5) last of all, those pupils around her squealed for joy watching her excellent fingering.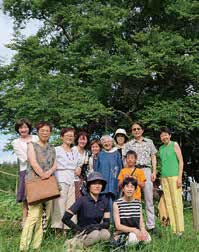 Next, we visited the Daigo cherry blossom tree. Mme. Slenczynska enjoyed warmhearted reunion with the local people, most of them belong to her generation. Grace to her performance under the cherry tree in 2007, the village people have been her close relatives.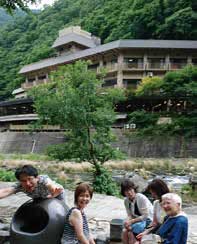 "When my husband passed away, I totally lost energy. I had a wonderful husband, but I had to live without him. When I came back playing the piano again, having overcome the grief, and I have grown up thus far." "I do not choose the direction. Life itself chooses it." "So, I go forward." These are excerpts from what she told us there.
Having conversation with the 1000-year cherry tree, it seems to me she has encouraged herself. That night we were at Yubara geothermal spring appreciating her hard works.
We had a toast of congratulations. Mme. Slenczynska told to one of us, "I always do not know where Doctor Mifune would like to go with me. I did not expect to perform at the elementary school today!"
It has been with her sincere devotions that she encounters every unexpected happening. She knows it the best where todays rejoice comes from.
In the afternoon of August 3, 2017, she left for Taipei with my younger sister, for a lot of friends were waiting for her. And soon, my younger brother informed me from Taiwan how she did her very best even more than in Okayama.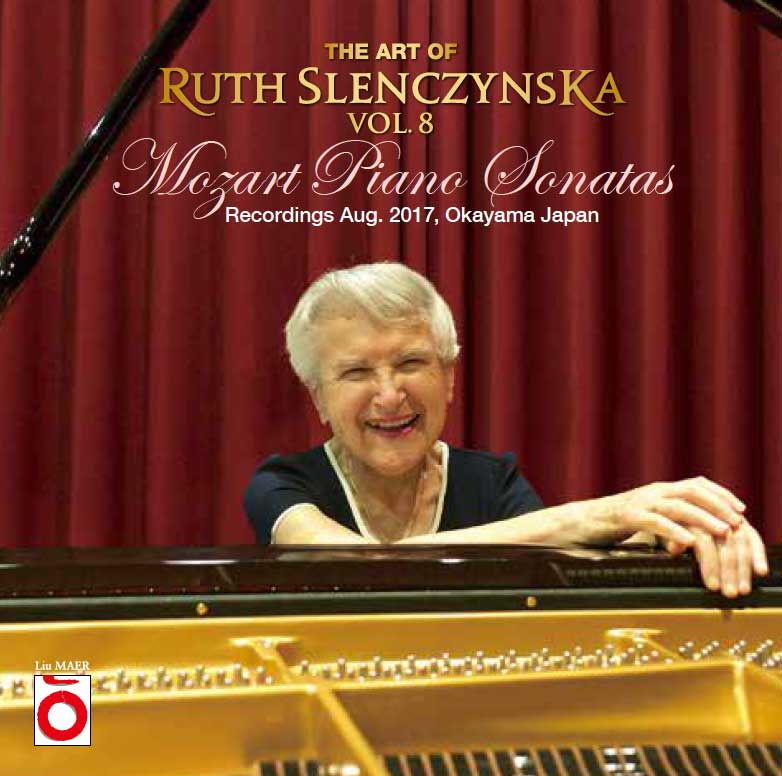 92歳の奇蹟のピアニスト、モーツァルトのピアノソナタの通念を覆す驚異の演奏!
「老いは成長の始まり!」
2017年夏、岡山で信じがたい活動をした92歳の巨匠が人類の身体と芸術の進化の可能性をここに示す。