The Encounter with Mrs. Ruth Slenczynska – An Amazing Piano Virtuoso at the End of the 20th Century
By Bunsho Mifune
I. This is true sound of the piano!
A dentist who loves playing the cello
Although I am one of the ordinary dentists who devote to treating patients most of my time, the only difference might be my wholesouled enthusiasm for music. Thanks to the unquenchable ardor, a lot of exciting encounters have been brought to me. Especially the encounter with Mrs. Ruth Slenczynska has been no other than a miracle-intervened experience.
My father was a professional painter who loved music. He had a direct influence on starting playing the violin in my childhood. Our family moved from Taiwan to Okayama, Japan, when I was fourteen years old. Since that time I started playing the cello. My family members are sometimes uneasy, due to my concentrating on the cello alongside of my profession as a dentist.
It was around 1994 when I received a full-concert Steinway grand piano made in 1926 grace to the fortunate connection. Next year I sent it to Kobe to a complete overhaul. The piano returned to us, and just after two weeks, the big earthquake around Kobe and Osaka regions totally destroyed the workshop of our piano tuner. Therefore, our piano escaped the earthquake by a hairbreadth; it was really fortunate enough. My father passed away quite early at the age of fifty-six. Installing an art museum to contain my father's paintings was planned in front of our home at the time of seventeenth anniversary of his passing away.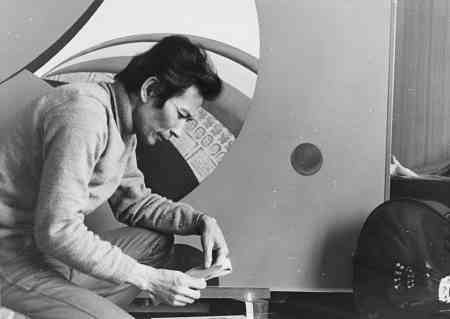 Thus, Liu Mifune Art Ensemble is designed not only as an art museum but also as a concert hall. Concerts have been held more than thirty times there.
Main occupation as a dentist, musical performance by myself and a unique concert producer – in every aspect of my life I am a lover of music grace to the close relationships with beautiful personalities and encounters. Above all my father was born an artist who has bestowed absolute love and reverence for art upon me. It has been also the driving force of my life.
It was truly epoch-making when I was introduced to Mr. Kou Iwasaki, a violoncellist, at the age of sixteen. Simply because both Mr. Iwasaki and I were born in Taiwan, I asked his favor to listen to my playing the cello at one of his concerts. Thus, Mr. Iwasaki introduced me to the late Mr. Hideo Saito. (As a matter of fact I became his last student of violoncello.) He offered me exceptional attractions to the cello, and the encounter at the same time provided me for getting to know a lot of performers to whom I owe much today. What was more, I was given a chance to conduct Dvorak's Cello Concerto where Mr. Kou Iwasaki was the soloist of cello at the beginning of 2000, even though I was an amateur. Thus, our cordial relations between Mr. Iwasaki and I have further improved these ten years.
A dramatic encounter with Mrs. Slenczynska
It has been my earnest wish for young musicians in Taiwan to be able to learn directly from Mr. Kou Iwasaki. Therefore, in 2003 I asked my younger brother, who is also a dentist in Taipei to prepare for it. He loves music, too, and his wife is a pianist who graduated from Juilliard School of Music. Then I accompanied Mr. Kou Iwasaki and his elder sister pianist Mrs. Shuku Iwasaki to Taipei. (Mrs. Shuku Iwasaki had lived in Kaohsiung, Taiwan for five years until she became nine years old.) A Taiwanese-Japanese joint concert was held at home of Mr. Yonkun Zahou, a friend of mine, a musical critic.
When Piano Quintet 'Trout' by Schubert finished as the first half of the program, Mr. Zahou announced, "Today, our honorable guest Mrs. Ruth Slenczynska is with us. We would like to ask her performance!" A small elder lady in the first row slowly stepped to the piano with a smile. Mrs. Shuku Iwasaki and I looked at each other at the very moment when her Etude Op. 25-1 by Chopin sounded its first note. However, the Op. 25-1 looked as if the less than 150 cm tall elderly lady just warmed up her fingers. The second Etude Op. 25-12 by Chopin moved me thoroughly with admiration and awe. How powerful and passionate fortissimo arpeggio sounds are! What a dignified performance she does! "This is the piano's true sound!" exclaimed Mrs. Shuku Iwasaki and I with admiration.
In that evening we could have dinner with the elderly pianist. What she told us at the dinner table was really more astonishing. Josef Hofmann, Alfred Cortot, Artur Schnabel, Wilhelm Backhaus and S. Rachmaninov – all of these masters were her teachers. Vladimir Horowitz was her life-long friend until his passing away. We uttered an exclamation about these facts. The two piano pieces by Chopin and her touching episode brought us to the conclusion that the elderly lady with white hair, who sits up straight being as tall as a pupil of primary school, is a legendary personality.
The elderly lady's profile in more detail was known to us next day. Her husband passed away three years ago, and she stopped playing on the piano. Thanks to her Taiwanese students who invited her to Taiwan, she accepted a position as a guest professor at Dong Wu University for one year since September 2002. When I came to know her identity as a truly legendary pianist, it could hardly be expected for me as an individual lover of music to invite her.
Nevertheless, Mrs. Slenczynska's performance of Chopin has always sounded to my ears even after I returned home in Okayama. Because I have yearned for listening to her piano once again, I flew to Taipei in March 2003. "I would come to Okayama when cherry blossoms are in full bloom in April," promised Mrs. Slenczynska in the end as I asked her with great earnestness. Thus, her concert in Japan has come true. And it was her first visit to Japan. The answer is rather simple, though it is hard to believe. Mrs. Slenczynska stopped all of her commercial performance at the second half of her forties in order to seek after her own value of art. That is why she has not been known to the Japanese who are related with music. Even though I started preparing for her concert in Japan, I felt a little anxious about her. There would be unfortunate lapses in her technique, for she is already seventy-eight years old. "I have to overlook such mistakes of her," was my way of thinking at that time.
My guesses were wrong. Mrs. Slenczynska arrived at Okayama station at 21:00 p.m. on April 4 accompanied by my younger brother. She was quite well with her. My brother told me she left for Japan after she had finished lessons with more than ten students at the university in Taipei. The story was my first surprise. "First of all, I would like to see the piano," said Mrs. Slenczynska. According to her request we drove her to our small hall. Our Steinway 1926 piano has been already tuned very well by Mr. Toshiya Hironaka, an expert in Japan who invested his soul and technique more than twenty hours for our piano. At last Mrs. Slenczynska's piano sounded here in Japan for the first time, and all of us were fairly astonished by her vitality. "I will start my exercise at nine o'clock tomorrow," said she and left our hall at about one o'clock at midnight being very satisfactory.
Exercise method directly taught by Rachmaninov
On the next morning at nine o'clock Mrs. Slenczynska seated in front of the piano and started the unique daily exercise. (She has kept on doing this daily exercise for seventy years.) The exercise was quite mysterious. Two-day as a unit, the tempo of the metronome starts from the slowest, and gradually goes up to faster tempos unobtrusively. First, with one hand only. As each hand reached a certain tempo, then she repeats it with both hands. Besides, it was not all of the process. Next, having one fixed phrase, she accents the sound on one of five fingers. (This is the shifting accent method directly taught by Rachmannov.) This process also repeats the same beginning with one hand. Therefore, the sound is taken to the least pieces thoroughly, so her exercise was terribly monotonous and requires a considerable amount of perseverance. This type of her exercise lasted for three hours in the morning, in the afternoon and at night. This has been her daily task for seventy-five years as a pianist. Truly I thanked God did not bestowed an innate talent for a pianist upon me.
Her father, a violinist, prayed for his ambition while her mother was pregnant with her, "This child shall be the best pianist of the world!" The Spartan way of daily lesson lasted more than eight hours a day since she became three years old. As a child prodigy she journeyed all over Europe when she was about five years old. As soon as her performance finished the audience was curious about whether her piano had a device. Or one of the musical critics commented, "This girl must be deformed," i.e. an adult whose growing up has already ceased. Her appearance was so sensational that one famous doctor finally had to write an article for a newspaper, which confirmed, "This patient (!) is not ill at all."
Mrs. Ruth Slenczynska has studied under several masters until her age of fourteen. More than 3,000 concerts had been held all over the world as she became forty years old. According to her career, she is truly a superhuman pianist. She is a piano virtuoso who can perform any piece as impromptu with more than 90 per cent perfection. Now I witnessed such a master polishes every sound with all her soul and strength. Why does her performance greatly impress us? The secret of her immense charms corresponds to her way of life. There are her smile from the bottom of her heart and appropriate warm words when she is not engaged in a performance. The fact that we are related with one of the greatest personalities of the world preciously at the very moment – it moves us to strong emotions.
Thus, Mrs. Ruth Slenczynska's first performance in Japan was held at the Liu Mifune Art Ensemble on April 6, 2003 at the season of cherry flowers in full bloom.
Her first concert in Japan
The audience was deeply affected by Mrs. Slenczynska's enriched music that was far beyond our expectations. It was not necessary to analyze the significance of each sound of her piano. There was no need of taking care of the melody or the intention of composers Beethoven or Prokofiev, either. Every sound by her fingers relieved us so much that we would like to entrust us to the boundless world of her music.
As for the encore, she played 'Widmung' by Robert Schumann. Above all I was very moved by her, for I especially requested her to perform it at the end of the program. The moving piano work 'Widmung' finishes with the melody of 'Ave Maria.' Therefore, I thought it would uniquely fit as her last piece probably for the first and at the same time the last recital in Japan. The elderly master bade farewell to all of her audience. What was more, her performance of the 'Widmung' seemed as if Mrs. Slenczynska expressed me her heartfelt gratitude.
The pianist, the piano, tuning technique, the audience, the season, the place and piano pieces – every element of the recital at that night was unified into perfect harmony. It is rare for us to have such a chance. Even a classical music mania would be very fortunate if he could meet such a recital only once in his life. Literally the recital realized utopia. "Having listened to Mrs. Ruth Slenczynska's piano, my life has totally changed!" commented some pianists among the audience in this way. Those words of excitement tell everything.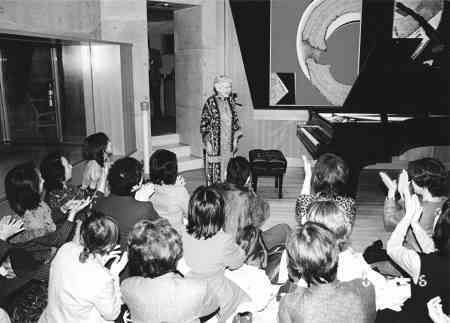 What is the most precious about Mrs. Ruth Slenczynska is her utmost uplifted spirit as an individual personality. Her performance of the piano has shown us the result of investing all of her talent and life for seventy-five years. Next day at noon Mrs. Slenczynska left for Taiwan accompanied by my younger brother. She sat in front of our piano at nine o'clock in the morning and practiced as usual. Exercising and polishing every sound went on till the last moment of her departure.
In June 2003 her farewell concert was carried out in Taipei. It was the time of SARS widespread all over. (The transportation quantity decreased to less than one tenth and gatherings at public facilities were banned one after another.) "I will not cancel the concert! May my performance give the Taiwanese courage to fight against SARS!" At the end of her concert everyone stood up to heartily applaud as usual. One thing was different, i.e. all of the audience in Taipei National Symphony Hall put on a mask on the face! Risking one's own life, more than 1,800 people gathered together honoring the last concert of their beloved master.
The encounter with Mrs. Ruth Slenczynska is a miracle. It applies not only with me but also with anyone else. Mrs. Ruth Slenczynska has appeared like a vision in the dream of spring, and she disappeared behind the true sounds of her piano unforgettable forever …… At that time I did not dream at all what miracle would happen half a year later. Her recital in April 2003, in fact, became the Prelude of her further superhuman concerts in Okayama.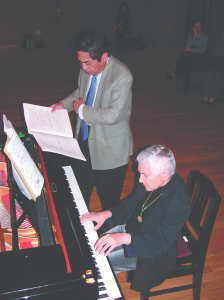 II. Mrs. Slenczynska's second visit to Japan
Her astonishingly energetic activities at the second visit to Japan
(Excerpts from the letter to a friend of mine after her performance in November 2003)
It is very fortunate of me to have accompanied Mrs. Ruth Slenczynska for nine days during November 2 – 10, 2003. Having been enchanted with her music and personality, I was reluctant to recognize those precious days passed by. I shed tears so often whenever her performance or what she said moved me deeply.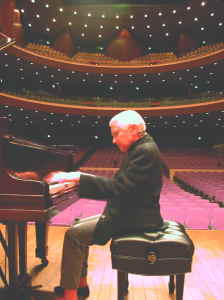 The main reason why I requested her visit in November was my deep-felt regret that we could not record her performance in April. Mrs. Slenczynska often mentioned after her recital at Liu Mifune Art Ensemble, "It was the very best performance I am satisfied with of these ten years!" Our earnest wish to record her performance in our small hall became the common starting point.
We also would like to share our fortune with other Japanese music lovers. Except the recital at Liu Mifune Art Ensemble, a recital in Okayama Symphony Hall, Piano Concerto by Saint-Saens (Mr. Kou Iwasaki, conductor), open piano lessons twice and so on – the number of her concert and piano works have increased. However, Mrs. Slenczynska did not take it too much. As our hall was not able to invite more because of limited seating, she suggested holding additional recitals. 16 children applied for her open piano lesson, though we originally scheduled with five candidates. "It is truly pity even one child would miss it," said Mrs. Slenczynska and she prolonged the lesson's time four hours more. Even though we were worried about her, she increased her schedules one after another. Thus, we understood her strong will and spirit to leave a legacy by her public performance in Japan.
Mrs. Slenczynska arrived in Okayama at night on November 2. Having straightly driven to our small hall, she played on the piano all the works of her program perfectly all at once. It was the same amazing attitude of her at the very beginning in April.
At 9 o'clock in the morning her exercise begins, the recordings for three or four hours in the afternoon, rehearsals with orchestra or her key stage of concerts at night – for six days this kind of her schedule repeated every day. On November 8 she did additional recitals twice at Liu Mifune Art Ensemble hall. Her schedule of the day was as follows: exercise on the piano, <13:00 - 17:00 p.m.> recordings, <19:00 - 21:00 p.m.> a recital at Liu Mifune Art Ensemble, <21:00 - 21:30 p.m.> gathering for her autograph, <21:35 - 23:00 p.m.> an additional recital at our hall. With this kind of tight schedule she went through peacefully, only had a salad at lunch and even no water. "It is quite normal of me as a pianist," said Mrs. Slenczynska as if it were nothing particular. Her performing hours of the day correspond to taking Shinkansen express train to and back between Okayama and Tokyo. As we think of her elderly age of seventy-eight, it is amazingly superhuman of her to perform for such a long time without rest.
True sound of the piano – releasing her CDs
Our Steinway 1926 had been already tuned for more than 60 hours by Mr. Toshiya Hironaka before one week of her arrival, especially for the sake of resulting in the best recordings. And Mr. Hironaka always went along with her to keep the best tuning. Mr. Yoshioka and Mr. Ohtani, who were to produce new CDs of Mrs. Yoko Kubo, were responsible for recordings. They recorded all of her performance both on the stage and her exercise for the whole one week. Thus, my dream and responsibilities were fulfilled.
In the evening of November 10 we had a farewell gathering for Mrs. Slenczynska. "All of us are so grateful to you for all what Mrs. Ruth Slenczynska did for us. The only one precious present from our family members to you could be these recordings of your performance. Please publish them as CDs for the piano lovers all over the world," said I to her. She responded, "Because these recordings consist of my performance in Japan, they belong to the Japanese. And you are their owner." Although it is too much work for me to handle, I made up my mind to release her CDs for the sake of Mrs. Slenczynska and those who would like to listen to her at any time.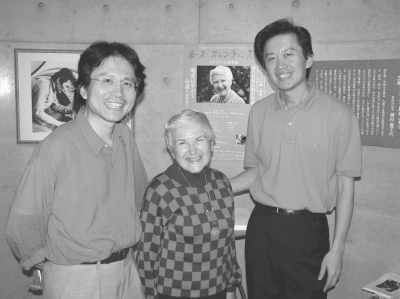 We held the catchphrase 'Loud applause will soon become the legend," which was not exaggerated at all. Her autograph gathering after her concert in Okayama Symphony Hall lasted for one hour. Enthusiasm of the audience and the crowded hall proved it true. Now, there are two separated groups in Japan; one is those who have listened to her performance, the other those who could not listen to her. Fortunately enough, we belong to the first group. Sincerely I pray for her visit to Japan once again in the near future so that Mrs. Slenczynska could play the true sounds of the piano.
translator Kiyoko Kruzliak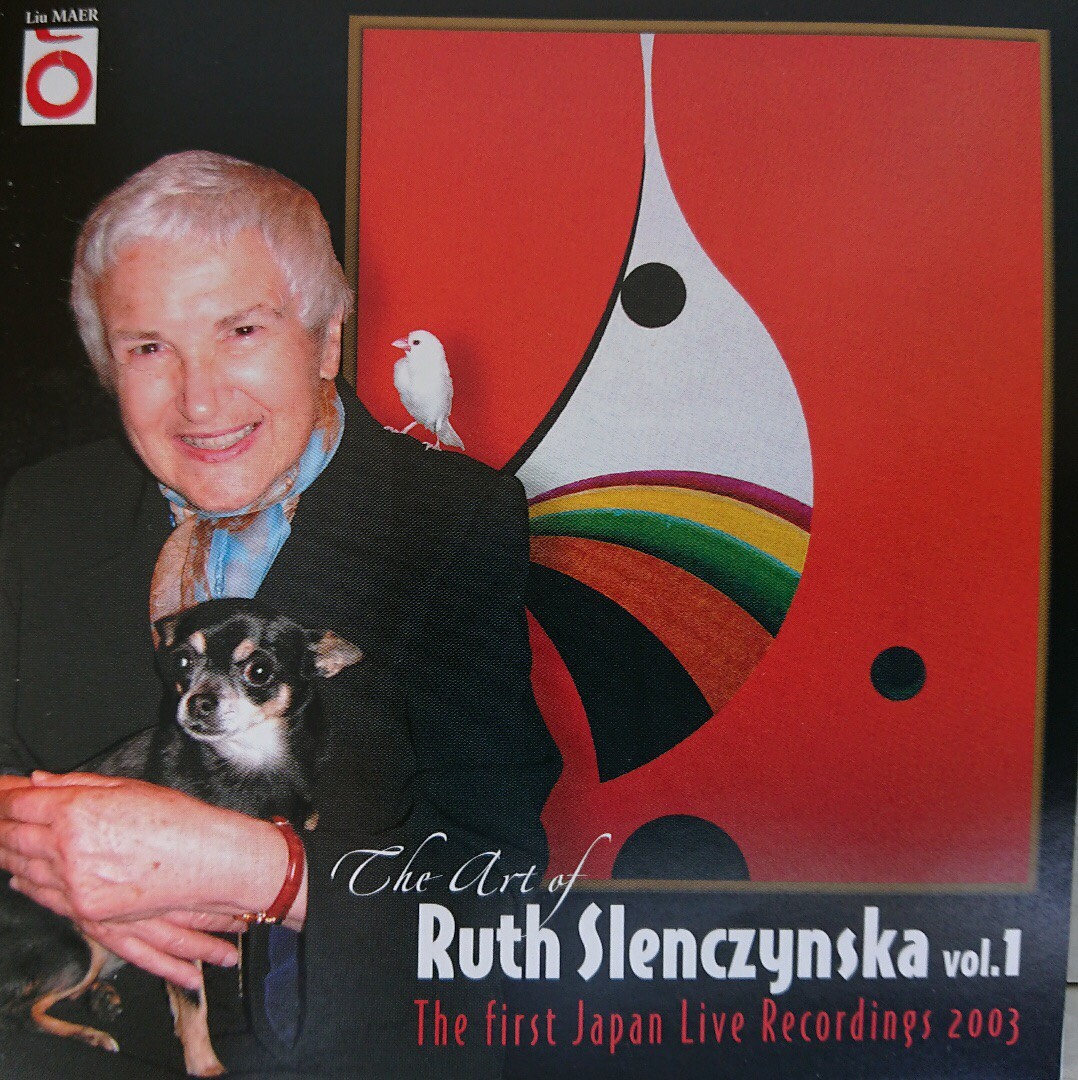 「これこそが本当のピアノの音だ!」
ピアノの音の概念を覆す幻の巨匠ルース・スレンチェンスカ 78歳にして初の日本公開演奏のライブ・レコーディング。ホロヴィッツが尊敬してやまないピアニスト、20世紀ピアノ(演奏史)の歴史の生きた証人スレンチェンスカが日本のクラシック・ファンに贈るピアノ音楽の真髄。