The Last Challenge of Mrs. Ruth Slenczynska, an Incredible Pianist, in January 2005 − The Last Chopin Recital
By Bunsho Mifune
These two CDs have become the last live recordings of Mrs. Ruth Slenczynska, the legendary pianist. (Frankly speaking, Mrs. Ruth Slenczynska has been conspicuous for her remarkable performance. It is only we did not know her performing engagement … )
Those who know her unusual and amazingly eventful life must be moved by her greatness that crowns her lifelong career.
By now everything ended. I have been present at her variously mysterious episodes when her life came to a closing chapter. It is probably the most significant period of Mrs. Ruth Slenczynska's life. And it seems to me that I have found out a ray of strength through her life − the strength that made her best artistic apotheosis goes down to posterity, for the great pianist not being entombed!
I was on the backstage watching Mrs. Ruth Slenczynska's last performance, Ballade No. 4 by Fre´de´ric Chopin, from an observation window. This incredible lady − her whole life was flashing before me in those vital minutes.
She responded to the sound precociously. And her falling in love with the piano at the age of three decided her destiny. Her childhood days resulted in Spartan education or rather mistreatment by her own father, who was a violinist with abnormal character.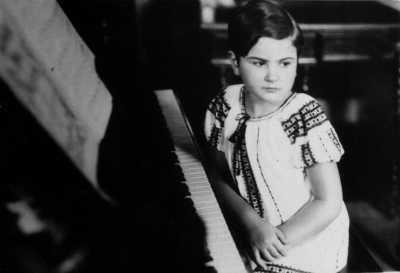 "The most remarkable child prodigy since Mozart." − She was praised when a recital was held at the age of four. Josef Hofmann, Alfred Cortot, Artur Schnabel, Egon Petri and S. Rachmaninov: These great pianist acknowledged her and she has learned under those masters. On the other hand, however, she felt by herself in this way, "After all, it is only the result of her being subjected to physical violence by her father for nine hours a day."
Soon a breakup of the situation came when she was fifteen years old. 'Mechanical' or 'immature' − such pertinent bitter criticism by newspapers in turn helped her tearing away the unbearable mask of prodigy. At the same time, it also gave her a chance to say No! definitely to her father, who had controlled her as an absolute tyrant.
She met a speedy downfall from the primary breadwinner of the family to a loser. Even though she has been always wishing to be a daughter in an ordinary family, as a matter of fact she was taken away ordinaries of childhood due to her love for the piano. Therefore, like an alien, she sensed an extreme distance in her relationship with her family members or people outside.
She has been shocked out of her wits for two years. Then she passed an entrance examination of University of California on her own. (Her father lashed her with his tongue, "You cannot succeed in the examination!") She did her very best to live her youth on her own, just like other youth in the same generation.
She took on various kind of part-time job; as a waitress, a model for a fashion magazine ("But only of small size!" added Mrs. Slenczynska who is 147 cm tall.) or as a baby-sitter (She especially chose at those who have a piano!) She tried to forget the piano.
In course of time, however, the piano called her again. As an assistant of a professor in piano lessons she worked part-time (because she could play any pieces the professor requested without the musical score!) She could also lead a meaningful life as a teacher in a music academy run by monastery. Just as she was about to make her life worth living, she was recruited again.
It still took considerable time for her to come back on the stage. Bitter criticism by newspapers at the age of fifteen inflicted great damage on her heart.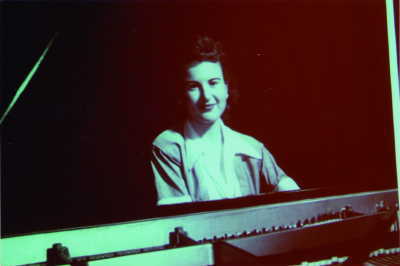 Bach Festival was the first performance that she has done in ten years, and it drew enthusiastic response from the general public. Great masters such as Arthur Rubinstein and Arthur Fiedler also gave her support and warm encouragement. Grace to those warm wishes, she lead a very busy life again as a professional pianist. Yet she could not find out the significance of her existence in the world of musical art.
Her recital performance in Europe after the Second World War became an important milestone in her career. The town of Ko¨ln was reduced to a heap of debris. Her rehearsal was exercised in a sliding hall there. Such ideas came into her mind, "My piano tunes could encourage those who are physically and emotionally exhausted and wounded, though it seems to me meaningless in front of an act of God." At that moment she was aware of her performance freely filled with beautiful love she had never experienced before.
Having received warm applause by audiences, who were deeply overwhelmed by grief, standing up from shabby chairs, she was inspired by the mission of an artist. In fact her own piano performance has enabled to strengthen a deep connection with audiences.
Piano is the most precious friend in my life. Now I am practically inseparable with it. Whenever I become one flesh with the piano, newly revitalized impetus can be given. This realization confirmed her in the view that she can surely carve out her own future as long as together with the piano.
In the next decade she was in full career. She was showered with superlatives along with her performance all over the world − except in Russia and Japan. Her energy looked like infinite. When she was thirty-eight years old, however, she got a stomach ulcer from overwork. The doctor declared, "Take some rest for one year, or you shall die."
All of her performance were cancelled the second time in her life.
Later she gave up all the performance activities that meant her for murderous schedule. She rather chose to teach at Southern Illinois University.
Dr. James Kerr, who is seven years younger than her, proposed to her when she was in the middle of forties. At last it has brought her happiness of family life, which had been very far from her life.
Her Utopian home life has lasted for thirty years, attending her husband who is a handsome and intelligent sportsman. "I rather tried my best to be a good wife than being a pianist or a professor." "I cooked all the three meals tastefully." "Every morning I had my husband first finished his breakfast and sent him to the University. Next, I got ready to leave for school." "I have never seen such a man of irreproachably wonderful character as him!" A smile always beams over Mrs. Slenczynska's countenance when the topic of conversation is on her beloved husband.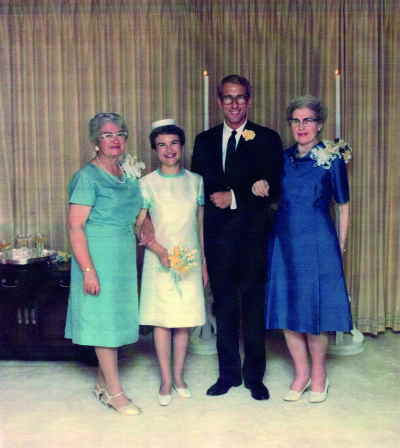 There have gathered young pianists from all over the world at Southern Illinois University. Having raised them up, professor Slenczynska has been adored by her students. Her enormous repertoire has been studied further and supported by academic references. The schedule of recitals and concerts she made up her mind was carried out.
Another turning point has come when she was seventy-four years old. Having taken care of her sick spouse, he passed away. There was no time for her to play on the piano. And she stopped playing on it after the funeral of her husband.
Taiwanese students of Mrs. Slenczynska were deeply concerned with her utter depression. That is why she was invited to Taipei. Serving as a guest professor at the University in Taiwan, let's attend her under our care!
Professor Slenczynska always warmed up her fingers for several hours beforehand so that she is prepared for her lesson with students. Gradually her fingers have been strengthened. At the same time it was when she became aware that her sounds on the piano are completely different from before. Recitals and concerts upon request have rapidly increased through word of mouth.
By now Mrs. Slenczynska has become one of the most beloved pianists in Taiwan.
In January 2003, after five months, I was very much moved by her performance (one of Chopin's e´tude). Grace to the encounter, her first performance in Japan has realized.
In the meantime the concluding stage of her life has been just around the corner. What her art has developed in Okayama Prefecture, Japan, is described in full detail in the commentary pages of The Art of Ruth Slenczynska Vol. I, II, III (CDs). Under the blossoming cherry trees in April 2003, trees are ablaze with autumn colors in November, intensely hot season in July 2004, and in the depth of winter in January 2005 − unintentionally in the very four seasons she visited Japan.
I think it gave a good chance to build up the program of Mrs. Slenczynska's last recital.
Four Scherzos and four Ballade by Chopin are considered to symbolize the four seasons of the composer's life. (Chopin only lived to be thirty-nine!) It is quite natural for Mrs. Ruth Slenczynska to have intended for leaving a certain message, identifying her own life with that of the composer. Above all she is descended from Poland as well as Chopin! (Besides, four pieces from the Ballet 'Cinderella' − Fairy Spring, Fairy Summer, Fairy Autumn and Fairy Winter − were added to her program just before one month of the recital. Thus it became very clear that her choice was deeply conscious of the four seasons in Japan.)
Mrs. Ruth Slenczynska stayed in Okayama more than forty days for these two years. "This is the kingdom of heaven!" − So she always told us.
Our family members were willingly in charge of behind-the-scenes arrangements, for we fell in love with her music and personality. Only we made an effort to be polite to our master pianist, and her compliments seemed to be really more honor than we deserve.
Spring, summer, autumn and winter − every season is truly beautiful in Okayama, and we are rich with food here. We guided her to places of natural beauty and historical sites and to the best restaurant during her stay here. "Wonderful!" "It is really delicious!" We, as her guide, were sincerely delighted to hear of her taking pleasure.
The building of the Liu Mifune Art Ensemble is our small hall isolated from outside. There are paintings of my father on display. And Toshiya Hironaka has made every painstaking effort to tune the piano (Steinway 1926), which Mrs. Slenczynska calls "my friend." It has been her most pleasurable time that she holds a dialogue together with the piano to her heart's content the whole day long.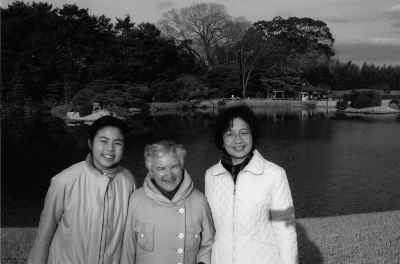 There have increased real fans of her through her recitals and CDs for two years. They have been always looking forward to listening to her performance, which fact is sure for her to bring joy.
At the beginning I was uncomfortable enough with the fact that the recital has become her last one, because I planned it to celebrate her eightieth birthday. Mrs. Ruth Slenczynska has been evolving day by day these two years. I totally came to forget that she is a little eighty-year-old lady, for she has displayed unremitting energy.
"It is truly something extraordinary that an eighty-year-old lady exercises on the piano eight hours a day." "I would like to finish when my condition is the best!" So she took a firm resolution.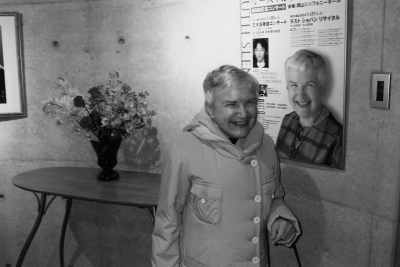 In the end this place of Okayama, where everything is ready to support her attempt for the time being, was chosen to have her last recital.
There were held two magnificent recitals in Taipei to celebrate her eightieth birthday on 20th January 2005. Then Mrs. Ruth Slenczynska arrived at Okayama.
In the meantime her schedules have increased more than the original one, too. Her tight schedule within a week was as follows: Three-time rehearsals with orchestra for the sake of the concert on 30th January (Concerto for piano and orchestra No. 1 by F. Liszt, Concerto pour piano et orciestre op. 21 by F. Chopin and Concerto for piano and orchestra No. 1 by P. I. Tchaikovsky), concerto and recital one day after another at Okayama Symphony Hall, recitals at Liu Mifune Art Ensemble twice, rehearsal with the conductor Akiyoshi Sako, six-time recordings, a recital at a primary school in the suburb of Okayama (It was the first and the last one in her life!), a hastily-arranged TV interview to make a documentary film for one week, and so on.
Could Mrs. Slenczynska keep herself in good condition amidst cold winter in spite of such a tight schedule? What is more, on the next day of her arrival one piano string was disconnected of our seventy-nine-year-old piano. Could the piano together with Mrs. Slencznska bring the last concert to a successful conclusion? I have warmly watched over the condition of these 'two elder ladies' with earnest prayers.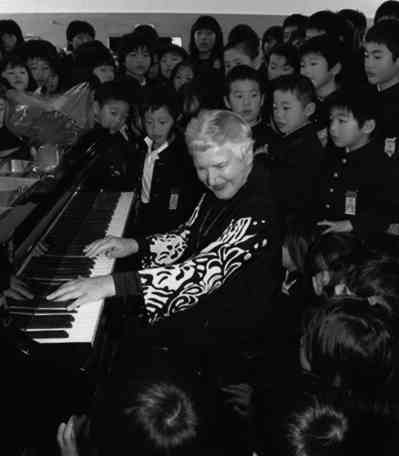 How much pressure would she have to meet at the very last performance in her life? A lot of episodes, her brilliant career, and having earned high praise − such a legendary pianist have prepared a formidable program by herself. Thus the pressure placed on her last concert is beyond all imagination.
She came back to her room in the hotel before eleven o'clock each night. She did rinsing and washing her hair by herself. ("I can do it by myself!" Mrs. Slenczynska said so to my wife, though my spouse willingly ready to attend on her.) Getting up 6:30 am in the morning, tiding her room, reading newspaper, writing letters, then she came down to the lobby at 8:45 am waiting for us. In this way she led a regular life. At every moment she observed her surroundings conscientiously and responded each of them with genuine wholeheartedness. Especially her sincere attitude impressed me deeply when she shouted for joy at a white daisy among the grass early in the morning near our hall. One afternoon we visited Korakuen park for a walk, for we had some time after the recording until the concert in the evening. Fairy tale Momotaro in English edition was presented to her at the cafe´ in the park. Because she found it very interesting, she read the whole story aloud to us just like a primary school teacher. She is polite to everyone, replying with heartfelt simple words. Listening very carefully to each tone, she exercises one note after another on the piano in an exact way. It truly leaves a deep impress on the minds of us that she tries to live in a right way every minute and every second.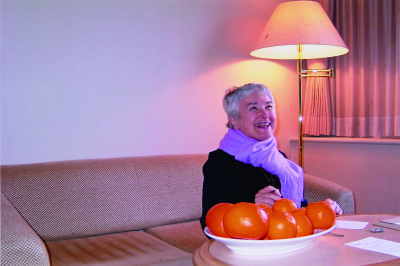 The rich accumulations of her sincere living attitude must be the very secret that her career has been with the evolution, even though she stopped standing in the spotlight by her own will. And the last concert here in Okayama became a compilation of her work.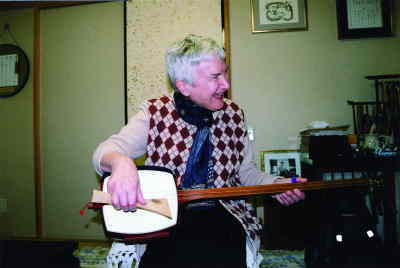 The absolute love for the piano since three years old trained herself. She has overcome every hardship unified with the piano. Thus she has come to the stage where she encourages people to live for higher aspirations by means of her piano. A very unique pianist, Mrs. Ruth Slenczynska, sharing the God's characteristics in herself! The last notes of Ballade No. 4 by Chopin has been performed in the Okayama Symphony Hall. Mrs. Slenczynska played two encores for the standing up audience with enthusiastic applause. First, Waltz No. 14 by Chopin was performed remembering the two-year-old son of my younger brother. Next, having finished playing Grandes etudes de Paganini No. 4 "Arpeggio", she said to me holding my hands, who was breathless with excitement at the stage door, "This is for you!" It fully takes two hours to play through the whole program. At the end of such a hard course Mrs. Slenczynska willingly chose the very difficult piece by Liszt. "Don't worry! I am still capable enough to play the piano!" − This is her message of gratitude for our concern about her, expressed in her archly unique way.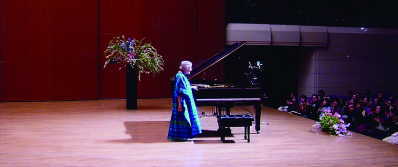 How about the other 'elder lady'? Our seventy-nine-year-old Steinway piano fortunately sustained the whole program of Mrs. Slenczynska until the very end, though there was the other piano string which could be broken. On the stage, recordings, and videotape recordings − our piano accompanied her in the best way. On the next day of the recital it was snowing very much in the morning, which is rare in Okayama. In the afternoon our piano safely came home from Okayama Symphony Hall without meeting the big snow.
Later after two days the other piano string broke.
On the nest day when all her performance was over, she started exercising just at nine o'clock sitting in front of the piano as usual. She only stopped her performance in public; therefore, she did not mean stopping to play on the piano at all. Piano is the best friend of her and the piano would be hers forever.
Her story does not end here. There are various incredible miracles and episodes after that (and of course hitherto). I would like to finish now. I am looking forward to some day in the future to tell them to you.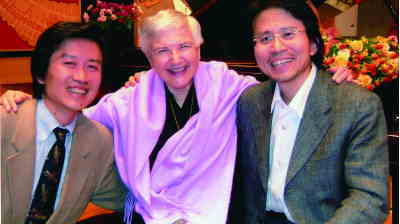 translator Kiyoko Kruzliak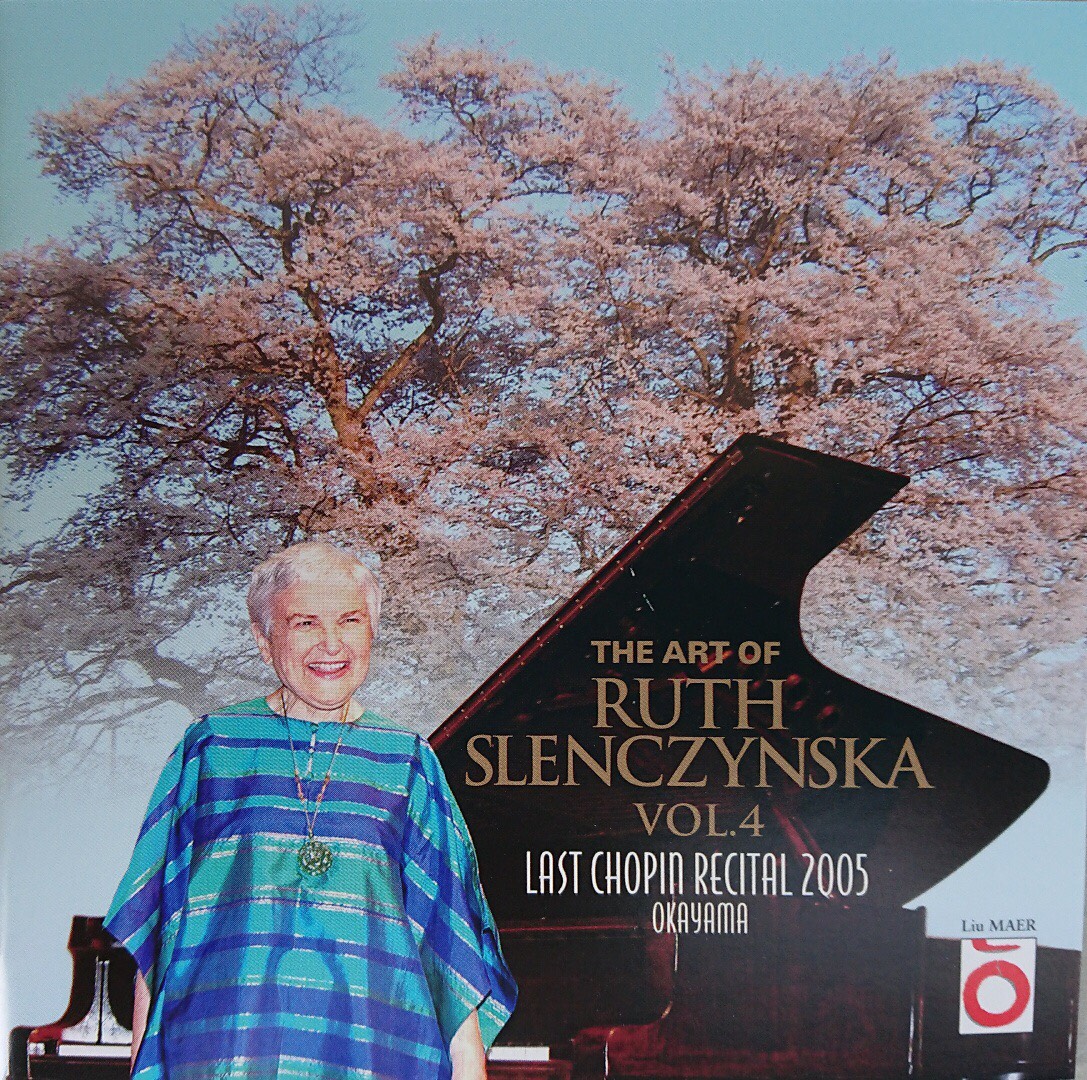 The Art of Ruth Slenczynska IV
20世紀最後の巨匠 前人未踏のショパン
LIU-1007/08(国内盤CD2枚組)税込定価¥4400
Recording

Jan. 31st, 2005 岡山シンフォニー・ホール(ライブ録音)

Piano

Steinway made in 1926 in Liu Mifune Art Ensemble

Performance

Ruth Slenczynska (Piano)
「喝采は伝説となった!」
80歳の超人ピアニスト ルース・スレンチェンスカが、自らの76年の演奏人生を賭けた最後のコンサート。
「最善にして最後」・・・
ラフマニノフ、コルトー、ホフマン、シュナーベルの教えを受け継ぐ唯一のピアニスト、20世紀最後 の巨匠が後世に残したピアノ芸術の金字塔!