An Amazing Pianist, Mrs. Ruth Slenczynska, and Her Devoted Challenge at the Age of Seventy-nine in Summer 2004 − The Record of an Utopia II
By Bunsho Mifune
July 2004 − it was Mrs. Ruth Slenczynska's third visit to Japan. Her performance started in Tokyo, where a series of unexpectedly tight schedules were waiting for her. Having left New York, she made a stopover in Tokyo on her way to Okayama.
Her public performance in Tokyo for two days − several hours − it has been the first and the last opportunity for music fans in Tokyo to witness her personally.
She has finished all of her hard schedules, which enabled her to find no minute to spare. When she took the last Shinkansen express to Okayama, she fell asleep soundly as soon as her small self was seated. Where does this elder lady well up such amount of energy, who is less than 150 cm tall? I was filled with emotion all the more as I saw her peaceful countenance.
On the next day at 9 o'clock in the morning the challenge of Mrs. Ruth Slenczynska started for two weeks in Okayama.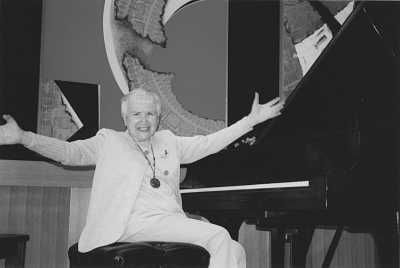 Her practicing for eight hours a day in our Liu Mifune Art Ensemble hall became in harshly enough conditions as anticipated before. Due to the hall is built without consideration of using in summer or in winter; it is often measured more than 30 degrees Celsius inside. What is more, the two prepared programs are extraordinary both in quality and in quantity. Therefore, generally speaking, there would be only a few pianists who would tolerate such circumstances.
For six days up to her concert, our day started picking up Mrs. Slenczynska 8:45 am in the morning at the hotel, for it is her wish to sit down in front of the piano just at 9 o'clock. She always came out of the lobby as soon as she saw our car, as if she has been waiting expectantly. One day I arrived five minutes later than it was scheduled. Mrs. Slenczynska was talking something with the staff of the hotel by means of limited English when I rushed into the lobby. I was afraid she wanted to come to our hall by herself, having asked them a favor to call a taxi.
"I would like to play on the piano as soon as possible! At my flat in New York it is the regulation that I can play from 10 o'clock in the morning. So I already sit in front of the piano from 8 o'clock; the time passes by my reading musical notes, or moving my fingers on the keyboard without sound. And just at 10 o'clock I start playing on the piano." This is what Mrs. Slenczynska told me in the car, and I found myself in a cold sweat.
From the next day on I went to the hotel 15 minutes earlier. Mrs. Slencyznska, however, has been already in the lobby standing with her bag of musical notes.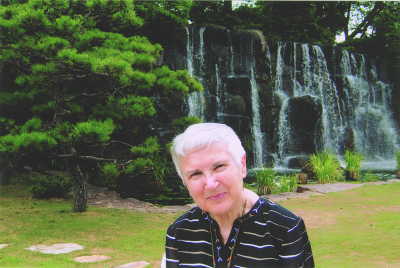 "We, the two old ladies, have become good friends!" Mrs. Slenczynska has been looking forward to seeing the 1926 Steinway piano in our hall. (The piano is one year younger than her!) Of course, our Steinway piano has been well tuned beforehand thanks to Mr. Hironaka. In the hall there are abstract paintings of my father, which remind us the universe. Being isolated ourselves from the world; we listen to Mrs. Slenczynska's piano the whole day long − Truly it started incredibly fortunate days for our family.
A few days later, my younger brother with his family from Taipei and my younger sister with their elder daughter from Paris arrived in Okayama. Mrs. Slenczynska had a very good time with each family in Taipei and in Paris since 2003, so their meeting again one another brought great joy.
At this moment supporting staff of our seven family members are ready for the sake of Mrs. Slenczynska's challenge.
In retrospect the whole atmosphere seems to us as if we took care of the finest of the finest horses that runs several races a day.
All of our staff silently stood by for her while her practice or recordings. When a piano piece gets finished a certain stage and Mrs. Slenczynska has a break, offering a cup of tea, preparing a dessert fruit, fanning for her, my sister and her daughter from Paris talking to her in French for the sake of relaxing her − each of us did our very best so that she will also be able to perform her maximum in the next piano work, too. Our common goal is only one: May the world's finest horse be ready at the starting gate again so that she would win the first prize.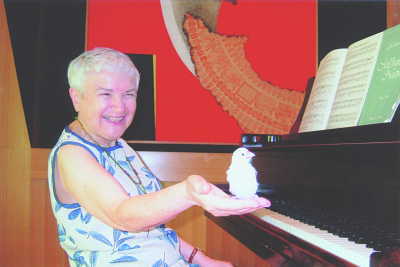 Taking our efforts as an analogy of horse racing, however, there is nothing inappropriate. Mrs. Slenczynska is the finest horse by herself; the piano is the horse and her leading jockey is also Mrs. Slenczynska.
The fifth or the sixth prize can be kept when a piece of work has been played wholly without errors. What is more, the second prize is possible if her performance expressed something superior than any other interpretation. Last of all, the first prize will be obtained as she could re-create the world where even the very composer did not devote attention. Mrs. Slenczynska ran such a race several times a day, and she went on winning. That is why our taking care staff also made our extra efforts for the sake of our world's finest horse.
"My performance this summer has developed much more than that of last autumn in Okayama!" Her own comment is definitely true, for we find she has developed her powers of fingers' speed, strength and pliableness. It is really astonishing that she is now seventy-nine and a half years old in a better condition compared with last year.
Mrs. Ruth Slenczynska has been active pianist since she was four years old. She was seventy-five years old when her beloved husband passed away. Since that time she did not play the piano for three years. We had better remember the fact. One of the universities in Taipei offered her a position as professor, thanks to the invitation from one of her Taiwanese students. It enabled her to come back to the piano. Now she has restored all her conditions before she was seventy-five years old. It is surprising enough that she has evolved herself to the present stage.
"A lot of things have I felt, thought over and learned about as I did not played the piano for three years. When I played on it again, sounds became completely different." "Our muscles do not wither away if we practice in a right way. I was not satisfied with my performance last autumn. Therefore, extra two hours are added to my daily practicing (i.e. totally nine or ten hours) after I came back home in New York. Thanks to those preparations, I am totally different!" She went on half in joke.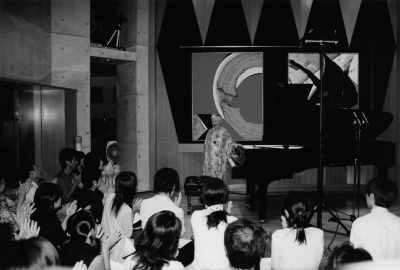 The technique of Mrs. Slenczynska is something special. What has really impressed me the most, however, is the way of her creative performance I have never listened to before. At the same time, it is exciting that her living interpretation hits the essence of each piano piece. Not only being a spokesman of the composer, but also musical notes seems to have been subject matters for Mrs. Ruth Slenczynska to create something new. Extremely speaking, Schumann, Chopin or Mozart would be really impressed by her creative performance based on each composer's chart. As one of the pianists, Mrs. Ruth Slenczynska has considerably exceeded the life span more than two times longer than others. Having mastered and polished the technique, above all she is an undoubted genius for artistic creation.
And yet it is too hard for a small elder lady at the age of seventy-nine to invest in playing on the piano for more than eight hours a day where temperature of the room is 30 degrees C in the midst of summer.
"Why do you practice in such a hard way?" asked I. Mrs. Slenczynska immediately replied, "Now I am in the best condition throughout my life course. Therefore, I would like to leave behind the very best of me!" − As a matter of course, our staffs are warmly encouraged to take care of the world's finest horse further.
The day of her recital (the first of the four) has come. We stopped air-conditioning for the sake of recordings. It was so hot as if we were in a sauna bath, for our hall was filled with her audience of about sixty. We were all in a sweat just sitting there. There were the worst conditions that could prevent from performing her very best. It was worse than my expectation that I have been afraid of before several months.
All of us were breathless with excitement watching the performance of Mrs. Ruth Slenczynska. The world's finest horse has won the first prize in almost all the horse racing after six days. Will she be able to show fulfill the expectations at this time of crucial importance? I felt a little uneasy.
But such worries of mine proved to be groundless. The performance of Mrs. Ruth Slencyznska was wonderfully filled with inspiration winning the goodwill of the audience.
The master has enormous potentialities.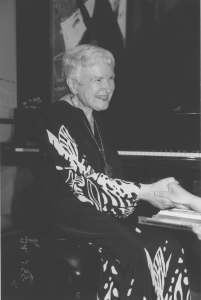 I visited her room when the first half of the program finished at her third recital and said, "Today's performance is also wonderful!" Mrs. Slenczynska gave a sigh with her head shaking form side to side, "There is a day indeed when I am not so good, for I have performed many times." Her eyes were filled with tears in her mortification. Later my sister told me that Mrs. Slenczynska was not satisfied with Mozart's Sonata she has played from her childhood.
All of us thought that her fatigue was reached the peak.
Next morning there was no trace of exhaustion or discouragement from last night as I timidly saw her. Her countenance was rather radiant with fighting spirit. Practicing in the morning and recordings for almost four hours in the afternoon finished as usual. And the last recital in the evening came to be the very best performance of the two weeks. All of our staff shed tears, for we have been witness of her whole challenge.
Solemnly we came to know the fact that the artistic creation of a true master performs an important role in the history at every moment. Our master has created the best of her artistic performance with her pure enthusiasm in the isolated space. We could witness the whole process one by one, supported her and felt a lot of sympathy with her. We could completely absorb all of them into our physical and spiritual selves. It is the very living experience of utopia!
In January 2003 I was deeply moved when Mrs. Ruth Slenczynska played one of Chopin's Etudes in Taipei. It is my lifelong pride that we could be committed to her artistic performance in Okayama, grace to a series of fortune. Frankly speaking, there has been also something mysterious.
In March 2003 I straightly negotiated with her in Taipei, and she agreed about coming to Japan for the first time in April. Then she sent me the program. I suggested uncustomary demands upon her program, for in those days I was not yet aware of her greatness as such a master. "Starting the recital with Beethoven's Waldstein Sonata seems to be a little sudden, so would you please perform Rachmaninoff's Prelude Op. 32-5 instead? And I would like to ask you a favor to play Schumann's Widmung in the end, for it might be your first and the last recital in Japan." − In this way I asked her favor.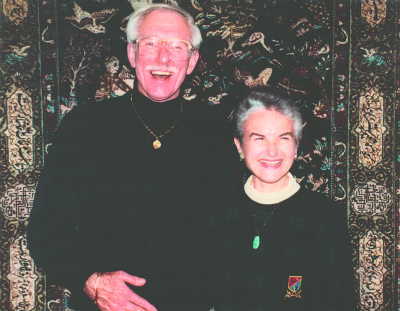 Mrs. Ruth Slenczynska commented nothing on what I mentioned. On her real recital, however, she followed my entire request. I shed grateful tears. This year (2004) my younger brother in Taipei told me as follows: Prelude by Rachmaninoff I requested her is the very piece she played at the funeral of her husband so that his soul will go to Heavenly Kingdom peacefully. On the other hand, Schumann's Widmung has been always performed as an encore whenever she offers gratitude to her husband who supports her satisfactory performance in Heaven.
Might Mrs. Slenczynska have felt that we are linked by fate because I worked on her to play her cherished pieces without knowing anything?
After all of her performance this summer we went swimming in the sea at Naoshima Island. She requested, "I would like to practice playing on the piano for an hour beforehand." While we drove to our hall, the radio in our car was just broadcasting the program of Okayama radio station in which I introduce Mrs. Ruth Slenczynska. The work on the air was the very Schumann's Widmung by her. I stopped the car and we listened to it to the end. "Even though my husband is not here, it is sure he is very happy about it." A pleasant smile spread over her face.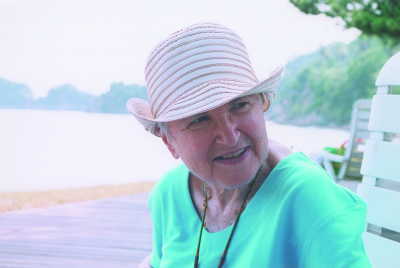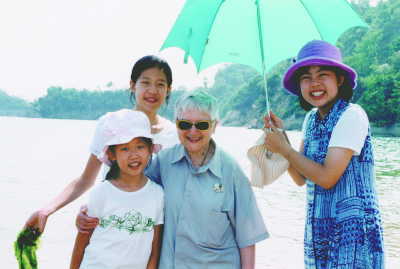 The day has come to accompany and see her off at the Narita International Airport.
"What do you think of your amazingly eventful life?" This was my last question to her.
"I am not interested in the past at all. What I am concerned about is only the future." These are the last words Mrs. Ruth Slenczynska told me. After one month a more amazing program was sent to me for congratulatory commemoration of her eightieth birthday in January 2005.
"Today's and tomorrow's myself is in the best condition, so please listen to my present performance." Such a message heard I from her.
What kind of history will she weave in the last concert in January 2005? It is my sincere prayers that a lot of people might be able to share with the utopia of Mrs. Ruth Slenczynska.
translator Kiyoko Kruzliak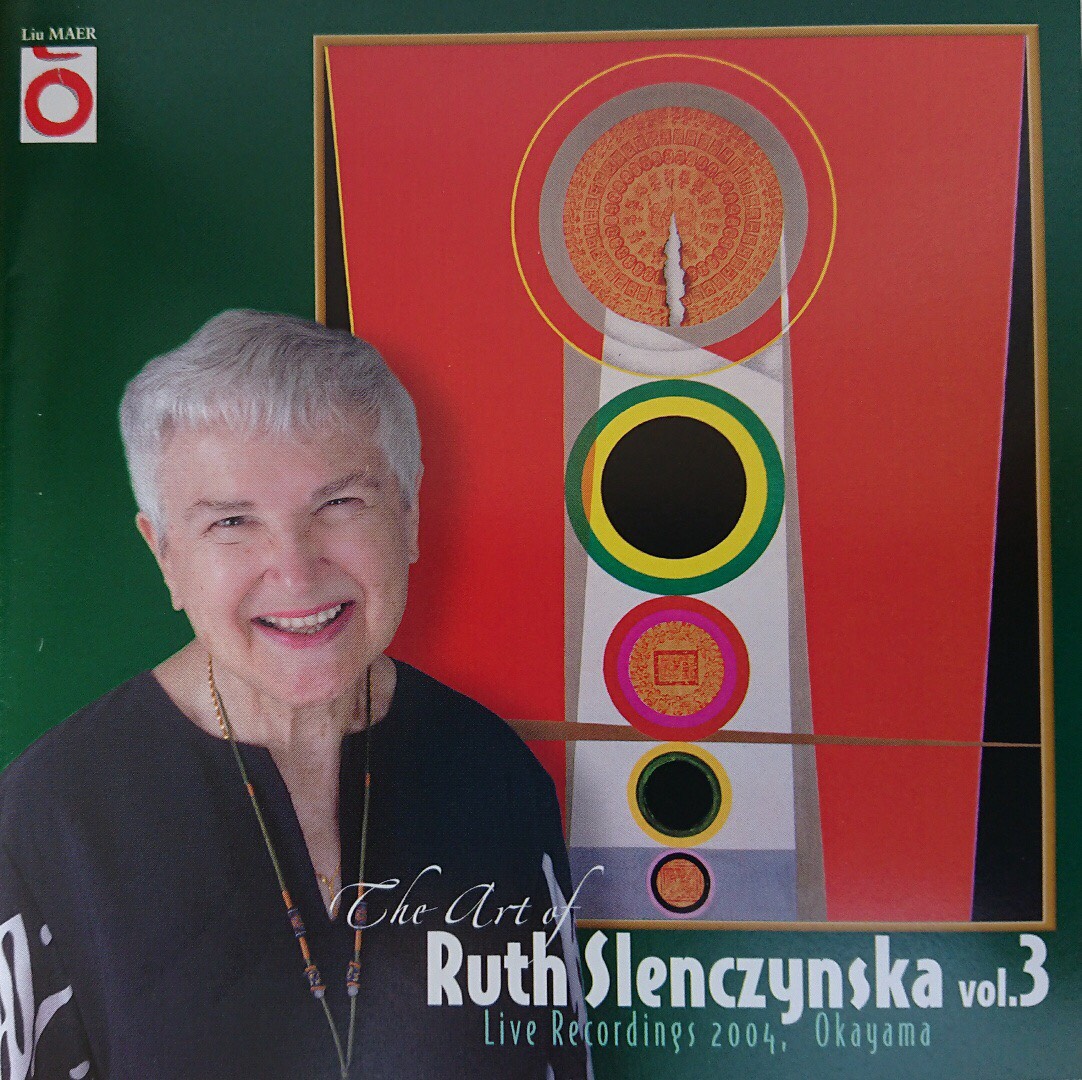 「ショパンはモーツァルトのように
モーツァルトはショパンのように弾くべきだ」
10歳の時、師のコルトーの家でカザルス・トリオとブラームスの三重奏曲を演奏したこともあるルース・スレンチェンスカ、79歳にしてカザルスのこの言葉の真髄を鮮烈に示す。