Mrs. Ruth Slenczynska, The Postlude of Rejoicings 2013 – I
By Bunsho Mifune
Her Life Course
Mrs. Ruth Slenczynska has a lot of significant episodes in her lifetime.
Even though there are many pianists, I have had the chance to attend her since January 2003 (78 years old) up until 2017 (92 years old). Because her noble spirit has created amazing art of music, the altogether more than 6 months period with her proved an inestimable blessing to me.
As for her touching episodes, please refer to my comments described in the booklets of six CDs (The Art of Ruth Slenczynska I, II, III, IV, V, VI).
Mrs. Slenczynska was born in 1925. Now she is truly on the last stage of her life.
The 14-year period (2003 – 2017) corresponds to 1/6 of her life, and 1/5 of my life. When I remember her devotions and rich harvest, it brings me deep plenary satisfaction.
Having taken a part in the early pioneering of the wilderness, a woman of strong will has exerted all the wise endeavors. Thus Mrs. Slenczynska shares with the world true beauty. She is great not only as a pianist but also as a remarkable personality. How fortunate I am in supporting this extraordinary talented master!
"Greatest Living Prodigy since Mozart"
The life course of Mrs. Slenczynska has outstanding ups and downs.
Her father was a talented violinist who was injured on his arm at the World War I. He had already made up his mind to have his child skilled in the art of music before her pregnancy took place.
Her childhood started under the discipline of her austere father.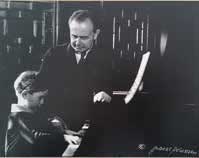 She started playing the piano at the age of three years and a half. She gave a performance at the age of four. She made her debut when she was six years old in Berlin, and the program was marvelous at her age. At the age of nine, she filled the role of Paderewski (1869-1941) and Rachmaninov (1873-1943).
Every time I made a mistake, he without a word, slapped me across the face. – Ruth Slenczynska, Forbidden Childhood, 1957
J. Hofmann (1876-1957), E. Petri (1881-1962), A. Schnabel (1882-1951), W. Backhaus (1884-1969), A. Cortot (1877-1962), and Rachmaninov – all of these great pianists gave lessons to her. So her piano performances went all over Europe. Thus the New York Times praised her as "greatest living prodigy since Mozart."
Later she published the above-mentioned book, Forbidden Childhood, in 1957. Because she described her childhood there, we came to know that her brilliant performance owes to the austere discipline of her father. It is as a matter of course that Spartan education alone has not promoted her talent.
Her mechanical technique was adversely commented in her teenage. It was as if she had been thrown from heaven into hell. Having given up her talent for the piano, she majored psychology at Berkeley, University of California. She also earned her own living. She ran away with her lover, who was an idealist with little endeavors. She even sold her blood, but it ended in going through a breakup. Thus her life until first half of 20s was filled with hardships and sufferings.
What is really remarkable comes from her careful analysis in the midst of adversity. She overcame step by step exerting all possible efforts. Even though playing the piano itself was trauma for her in those days, she gradually resumed it for the sake of gaining a living. Yet she could not derive significance of the art of music.
The Art of Music, Source of Comfort and Hope
Mrs. Slenczynska played the piano in a church in Koeln, Germany. It was in 1953, just after the end of the World War II. The church building was left in the ruin of the war, and she had 28 years old.
When she finished her performance, the audience stood up to give applause. They were clothed plainly; the citizens of former enemy nation should have been in despair and loss of hope from the aftermath of the war. The earnest applause made her aware of the fact that the art of music comforts the depth of human soul and opens the door of hope.
At that moment, high praise and failures in the past disappeared from her memory. Even the teachings of her masters (A. Cortot, S. Rachmaninov) have gone in the background. The relationship with the piano corresponds to that of friends or close family members.
The art of music is so powerful enough to infuse souls of audience that every suffering or sacrifice will be abundantly rewarded. In other words, Mrs. Slenczynska has recognized true value of her precious life.
Almost 2,500 times she performed worldwide until she reached 40 years old. She performed with many famous conductors. Decca published 12 golden disks of Mrs. Slenczynska. By the way, she was the first pianist who recorded the whole 24 Préludes op. 28 by Frédéric Chopin. She was praised as 'Queen of the piano.'
It was the time when she returned home to New York from her performance in South America. One morning she found herself in bathroom filled with blood. She was 38 years old. It was advanced digestive organ ulcer. The doctor told her to take rest for one year from her performance, because her life was on risk. She cancelled her schedule for one season. Nevertheless, she went on her playing tour. Six requests of Artist-in-residence came to her from universities. Because it was her sincere desire to teach and to go on performing as well, she chose the post at Southern Illinois University, which showed her the most favorable understanding.
To tell the truth, Mrs. Slenczynska decreased her pace of performance only a little. But she did not hire a manager anymore. She planned her schedule by herself. It means she only accepted what is truly good for her.
She dedicated herself wholeheartedly to her new profession. She disciplined students with love and enough preparation beforehand. She was one of the favorite professors not only by students but also by teaching staff. She became one of university's prides in the end.
Every time when she returned home after a long-term playing tour, students welcomed her gathering together in the lesson room. Flowers, ribbons, and the banner written Welcome home, Professor Slenczynska! It was genuine warm-heartedness she experienced within an extended family circle.
Marriage, Husband's Death, 3-year Blank – Taiwan and Japan
It was a predestined encounter when Professor James Kerr proposed her. He taught political science in the same university, and a friend of her introduced him. He was intelligent, in humor, and loved sports. What was more, he was distinguished for music and arts. Because he was seven years younger than her, she first hesitated to accept his proposal.
Professor Kerr married her when Mrs. Slenczynska was 42 years old. She substantially agreed with him sharing common household for the sake of spiritual growth each other.
Her new life of a faithful and devoted wife enabled her to learn more cooking and gardening. 34-year family life was truly a blessing. Professor Kerr was in the hospital the last three years. The death of her beloved husband was very painful when Mrs. Slenczynska had 76 years old. She stopped playing the piano for three years, even though she had played it every single day for 72 years before. She even reserved nursing home.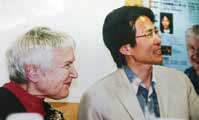 One of her students at Soochow University in Taiwan was worried much about discouraged Mrs. Slenczynska. She managed a post of visiting professor for the sake of her former respectful teacher.
Thus Mrs. Slenczynska left for Taiwan in autumn 2002 at the age of 77. The finale of her life course has commenced here. She was filled with respect and genuine warm-heartedness of the people. Her lessons enjoyed a good reputation. Soon she also started her performance again. In January 2003, three months later, I organized a home concert in Taipei. Mrs. Slenczynska just took part in it and performed Chopin's Etude.
In retrospect, it was where her later abundant harvest and episodes in Japan started. Neither Mrs. Slenczynska not I have ever dreamed of it. As a matter of fact, several years around her age 80 have brought about historic accomplishments!
Having granted my request, Mrs. Slencaynska has exercised and prepared 30 piano pieces by J. Brahms (1833 – 1897) for one year and a half. The recordings at Liu Mifune Art Ensemble, Okayama, were successful with her best conditions in 2009. Because she is deeply familiar with worldwide composers, I made up my mind to put a period to her public career, though more recordings could have been possible. It was my sincerest wish for her to spend peaceful time with the piano, being liberated from hard training and pressure of accomplishments.
Fantastic pianist, virtuoso pianist, the strongest boxer, due to her knocking out any pianist, today's Tyrannosaurus, E.T. the Extra-Terrestrial – these are endearing nicknames for her year by year. It seems to me as if she had nuclear fuel with her 145-cm tall, for Mrs. Slencznyska has been always with persistency.
I would like to entertain for Masae's wedding!
In summer 2013, our daughter's wedding was announced to her. It was as if we have made her come out from hibernation. She wrote to us, "I will come to Tokyo. I would like to play the piano for Masae's wedding!"
Our daughter Masae has been loved by Mrs. Slenczynska as her own granddaughter. She was a junior high school student when Mrs. Slenczynska visited our home in Okayama for the first time in 2003. Our daughter watched exercising the piano beside her, served tea to her, and went together with her for taking a walk or to a restaurant. Mrs. Slenczynska was so excited, "Oh, Masae is getting married!"
Her performance program was sent to us soon after that. "Because her husband loves Mozart so much, he can guess correctly the number of the Koechel catalogue by hearing a part of his melody. That is why I will play Piano Sonata No. 17 in B flat major K. 570. The second movement of Adagio expresses the song of love by newly wed couple. The first Allegro and the third Allegretto remind us of the two dancing together in raptures. I think it the best present for the couple."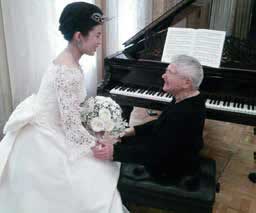 The Grotrian Steinweg made in 1877, which Clara Schumann loved and used, was also used by Mrs. Slenczynska under the thousand-year cherry blossom tree at northern part of Okayama prefecture in April 2007. This piano was sent to the venue of the wedding in Tokyo.
Mrs. Yoko Kubo, the violinist who has loved our daughter since her childhood, also volunteered for performance.
Mr. Kyo Bunryu, the founder of CHIMEI Enterprise and a friend of my father's in his young days, has managed for Mrs. Kubo to play the violin, Antonio Stradivari Cremona, 1722 'Joachim-Elman, from his collections in Chimei Museum. He has formed a precious collection, which consists of 1,600 violins. And he has granted the very best one for Mrs. Kubo, whom Mr. and Mrs. Kak Reirei, vice director of Chimei Museum, passed it directly in Tokyo.
Therefore, Mrs. Slenczynska with 1877 Grotrian Steinweg and Mrs. Kubo with Antonio Stradivari Cremona, 1722 'Joachim-Elman' – two masters performed with historical instruments. The wedding of our daughter became extraordinarily special.
Remembering Mrs. Slenczynska's offer to do whatever she can just after Japan's earthquake in 2011, Mrs. Kubo has held concerts in the disaster-stricken region. In winter 2011, Daigaku Jyosei Kyoukai (Association of University Women Students) helped me hold a charity concert for the March 11, 2011 quake at Kyudo Kaikan Hall in Tokyo.
Thus another charity concert for the March 2011 quake was organized at the same venue, Kyudo Kaikan Hall in Tokyo. Mrs. Slenczynska plays the piano that Clara Schumann loved, and Mrs. Kubo plays the violin that Joachim loved. The program has developed as two masters play the precious historic instruments.
Grace to Clara Schumann's piano, Symphonic Etudes Op. 13 by Robert Schumann (1810 – 1856) was chosen. Because Mrs. Kubo chose Partita for Unaccompanied Violin No. 2 by J. S. Bach (1685 – 1750), it is the piece that Joachim often played in his days. Especially I was so grateful for Mrs. Slenczynska to have chosen the above-mentioned piece by R. Schumann.
Her Imperial Majesty Michiko
Meanwhile Her Imperial Majesty Michiko came to know that Mrs. Slenczynska would perform in Tokyo.
Mrs. Shuku Iwasaki, pianist, initiated to introduce Mrs. Slenczynska to Empress Michiko. It was the time when she had the last Chopin recital in Okayama 2005 commemorating her 80th birthday. "When Mrs. Slenczynska comes to Japan again, let's play a duet!" It was the promise of Her Imperial Majesty.
Having expected Empress Michiko's taking part in the concert, Mrs. Slenczynska added Piano Sonata No. 21 in C major Op. 53 "Waldstein" by L. van Beethoven (1770 – 1827), 13 Preludes Op. 32 – No. 5 in G major by S. Rachmaninov, and Nocturne Op. 33 by S. Barber (1910 – 1981) to the program. The audience can share the wonderful atmosphere of our daughter's wedding. On the other hand, I worried about her hard-exercising days beforehand. Other additional schedule came on the way.
On December 2, 2013 Mrs. Slenczynska safely arrived at Narita airport. One of JAL (Japan Airlines corporation) staff loves her, and grace to her Mrs. Slenczynska was accompanied by the staff from her flat in New York City to Japan. The charity concert at Kyudo Kaikan Hall was scheduled on December 6, and the wedding was on December 8.
She started her daily routine exercising in the next morning of her arrival. She has kept it for 80 years. Newly resurrected 1877 Grotrian Steinweg (No. 3306) was waiting for her in Kyudo Kaikan Hall.
The Hall, however, has only a capacity of 120 persons. The news of the concert spread faster than our expectation. Therefore, we added the same concert in the afternoon, too. Though Mrs. Slencaynska had already visited Japan eight times before since 2003, it was her first concert in Tokyo on December 6, 2013.
The concert was wonderfully successful. Because Her Imperial Majesty had her duty tour overseas, participating the concert was impossible. So, Mrs. Slenczynska was invited to
Imperial Palace after our daughter's wedding on December 8, 2013. Thus the promise made in 2005 was fulfilled.
Mrs. Slenczynska did not rest at all after December 6 concert. From the morning of December 7, she exercised Mozart's Sonata all day long with the piano carried to the wedding venue. So, our wedding was truly blessed.
On December 9 (next day of the wedding), Mr. Toshiaki Maruyama, Director of Institute of Ethics, invited Mrs. Slenczynska to his Education Center in Gotenba, Shizuoka prefecture, for he loves her art very much. The weather forecast was 'cloudy and sometimes raining.' When we arrived there, clouds over Mr. Fuji disappeared. Mr. Maruyama has already had their home piano in Tokyo carried here. Thus her performance in front of clear Mr. Fuji through the windows made a deep and lasting impression for all of us.
Encounter with High School Students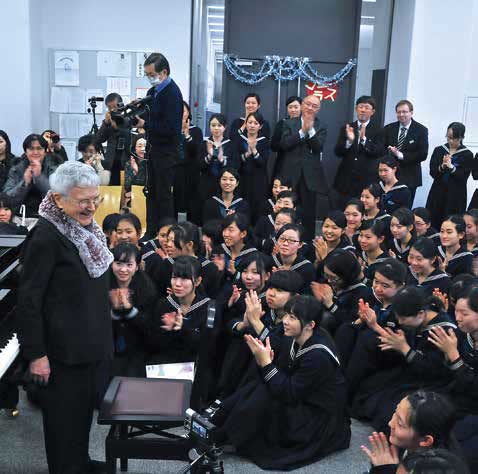 Mrs. Slenczynska has been looking forward to the day of December 10. One of the teachers in Mukogawa Women's University affiliated high school had students listened to Mrs. Slenczynska's Brahms CD in her class several months ago. Because many students wrote letters to her in English, I was asked to send them forward to Mrs. Slenczynska.
I was very much moved by their genuine pure sensibility. I replied, "Mrs. Slenczynska will come to Japan soon. I would like to invite all of you to her concert in Tokyo on December 6, 2013." Due to their examination period, I accompanied Mrs. Slenczynska to the students instead.
It was midnight when we returned back to Tokyo from Gotemba on December 9. Next morning on December 10 we left the hotel in Tokyo at 6 o'clock, and arrived at Nishinomiya, Hyogo prefecture, before noon. About 100 high school students were waiting for Mrs. Slenczynska. Now they have found out that this tiny grandmother with her white hair like silver is the very pianist to whom they wrote.
Importance of women's independence, one can communicate with anybody in the world through music, etc. – Mrs. Slenczynska first spoke about 15 minutes in simple English earnestly. Then she started playing the piano at the center of the room. All the students listened to her with their ears so concentrated on the pieces she played one after another for more than 30 minutes, including Chopin's Etude in E major Op. 10-3 and Prelude Op. 32 – No. 5 in G major by Rachmaninov.
At the end, the girl students sang in chorus to Mrs. Slenczynska as my request. Because the choir sang very expressively with heart and soul, she was deeply impressed by beautiful voices of the chorus. Later I came to know that those high school students are the very winner of choir competition in Japan.
Though there was 75-year disparity in age, exciting communion of music between the great pianist and students has reached a maximum. Young genuine-heartedness, forward-looking pure heart – leading characteristics of the students truly awaken hopes for Japan's future.
It was well past midnight when we returned to the hotel in Tokyo. We had no time to take a meal from the morning, we just finished our dinner simply at Tokyo station. We forgot the fact that Mrs. Slenczynska is an 89-year-old grandmother.
The Communion of Heart with Heart
December 11, 2013 was the day to visit Imperial Palace.
4: 00 pm in the afternoon was the appointed time. According to Mrs. Slenczynska's request, we rented a studio in Ginza, and she exercised playing the piano there for three hours from the morning. But she did not play A. Dvorak's Slavonic Dances, which Empress Michiko particularly wished to play a duet. She said, "I don't know which part Her Majesty would like to play. It will be all right for me to sight playing."
It was a clear beautiful winter day. It has turned out the commemorative best day not only for Mrs. Slenczynska but also for me. The communion of heart with heart between Empress Michiko and Mrs. Slenczynska by means of dialogue and art of music expressed pure bliss. Her Majesty is always praying for peace and well-being of Japanese citizens. I highly appreciate remarkable personality of the Empress.
Mrs. Slenczynska played Preludes Op. 32 – No. 5 in G major by Rachmaninov and Piano Sonata No. 21 in C major Op. 53 "Waldstein" by Beethoven from her soul.
Both Her Majesty and Mrs. Slenczynska love playing the piano. Slavonic Dances Op. 72-2 by A. Dvorak has been played a duet. What a scene of wonderful beauty it was!
So Empress Michiko played the first part. And now Mrs. Slenczynska still rejoicingly remembers, "It was the first time in my life to play the second part!"
Concerts and Recordings in Taipei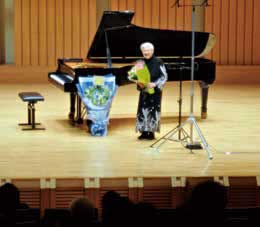 Next day December 12, 2013 she left for Taipei where a lot of her students and lovers of her art were waiting for.
Her schedules in Tokyo were as if great waves have beat one after another. Her schedules in Taipei have turned out harder. Because she had good foundation of exercise enough in New York City, she had already told Mr. Ryuzaburo Mifune, my younger brother in Taipei, to prepare for concerts at Song-yi Hall of Soochow University Taiwan. The University has often invited Mrs. Slenczynska as a visiting professor in the past.
As soon as she arrived at Taipei, she started exercising at the residence of Mrs. Wang Runting, who was one of the students of Mrs. Slenczynska at Southern Illinois University.
After one week, on December 20, 2013 at 7: 30 pm in Song-yi Hall of Soochow University Mrs. Slenczynska's concert took place. The program was very rich: including all the pieces she performed in Kyudo Kaikan Hall, Tokyo, on December 6, 2013, plus Piano Sonata No. 17 in B flat major K. 570 by W. A. Mozart, which was originally for the wedding of our daughter. Thus the concert was amazingly great, for usually 89-year-old pianist would not challenge to such a performance with vital power and full volume.
Of course, various touching and moving encounters in Tokyo added her performance in Taipei expressions of artistic beauty and sensitiveness. Her touch was also perfect. Standing ovation and loud cheers have shown the excitement of her audience.
Mrs. Slenczynska gave her autograph to 400 participants after the performance. It was half past eleven just before midnight when we left the Hall.
Live recordings were also remarkably successful. Thus my younger brother wished her merry Christmas in Taipei from the bottom of his heart. Next morning on December 21, 2013 she told him, "I would like to perform more. Please prepare the notes of Sonatas by Beethoven and Sergei Prokofiev (1891 – 1953)."
She caught a cold after that. Her blood pressure measured 220, and the doctor told her to stay in the hospital. She did not follow the advice, and she went on coughing half a year after that. Piano Sonata No. 12 in A flat major Op. 26 by L. van Beethoven, and Piano Sonata No. 3 in A minor Op. 28 by S. Prokofiev; these two pieces were also live recorded additionally at Song- yi Hall of Soochow University.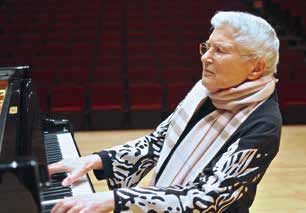 Later I asked her, "Why did you choose the Sonata by Prokofiev at the very end? Did you have a special intention?"
Mrs. Slenczynska replied with a smile, "Prokofiev has been always my repertoire. I don't want that people would think of me just playing romantic simple pieces due to my age of 89!"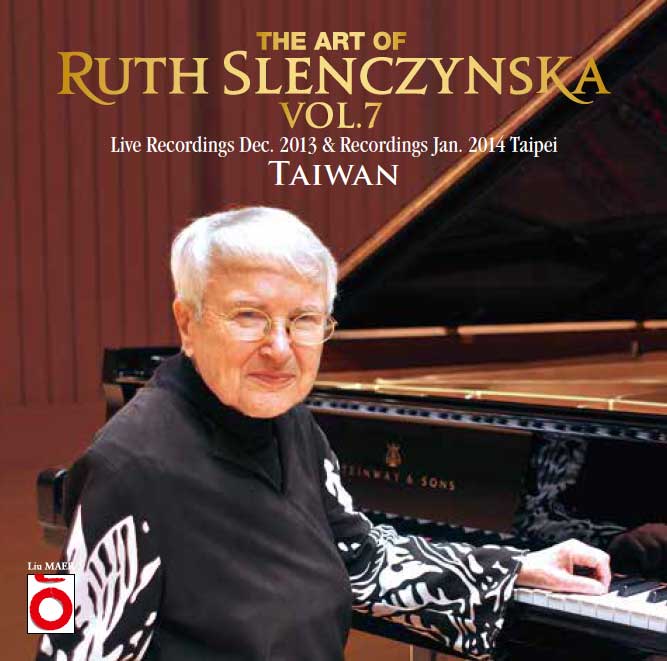 The Art of Ruth Slenczynska VII
Live Recordings Dec. 2013 & Recordings Jan. 2014 Taipei Taiwan
LIU-1012/13(国内盤CD2枚組)税込定価¥4400
Recording CD1 & CD2

Dec. 20th, 2013 Song-yi Hall, Soochow University Taiwan, Live Recording

Recording CD2

Jan. 9th, 2014 Song-yi Hall, Soochow University Taiwan

Performance

Ruth Slenczynska (Piano)
89歳の巨匠 さらなる極みへ!
89歳の超人ピアニスト、台北での喜びに包まれた名演!
ベートーヴェンの「ヴァルトシュタイン」とシューマンの「交響的練習曲」は金字塔的名演!