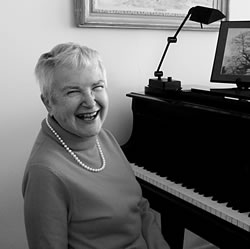 The piano was a special order from Clara Schumann, made by Grotrian Steinweg (1877, No.3306). The piano was donated to Krefeld City (20 km from Dusseldorf) by Clara Schumann after a concert held their, and had long been used in performances. Later it was sent to Linn musical instrument museum in the suburb of Krefeld, thus having survived the bombing of Allied Army in the Second World War.
In 1984, the piano was returned to the city salon of Krefeld. However being incapable to be used in musical education, it was sold to a Japanese trading company 20 years ago.
In 2006, it was acquired by Liu Sei Yo Memorial Art Museum (Liu Mifune Art Ensemble) in Okayama city. The piano was repaired after studying another Clara Schumann's piano owned by the Museum of Musical Instruments Musashino Academia Musicae, and recovered nearly the same state as it was made 130 years ago.
April 12,2007, on the top of a mountain in the north of Okayama county, Ruth Slenczynska played this piano in a dedication concert to the 1000-year-old "Daigo" cherry tree under the tree itself. The process of the miraculous recovery of Clara Schumann's piano was recorded in the documentary video filmed by OHK, " First time in 1000 years Cherry tree meets the piano," and created a big sensation.
The recovered piano has heavy and rich bass, sonorous middle tone and beautifully pure high tone. It is interesting to see how the piano, moved by the soul of Clara Schumann, will keep on sending messages to us in the future.
translator Kiyoko Kruzliak